Finding the confidence to take the lead is difficult for anyone at any time. Doing so when you're a teenager witnessing extreme violence and racism is leadership on another level. Two St. Luke's students—Zaire and Zion Profit found a way to find their voices and make a difference at a time when many are feeling lost.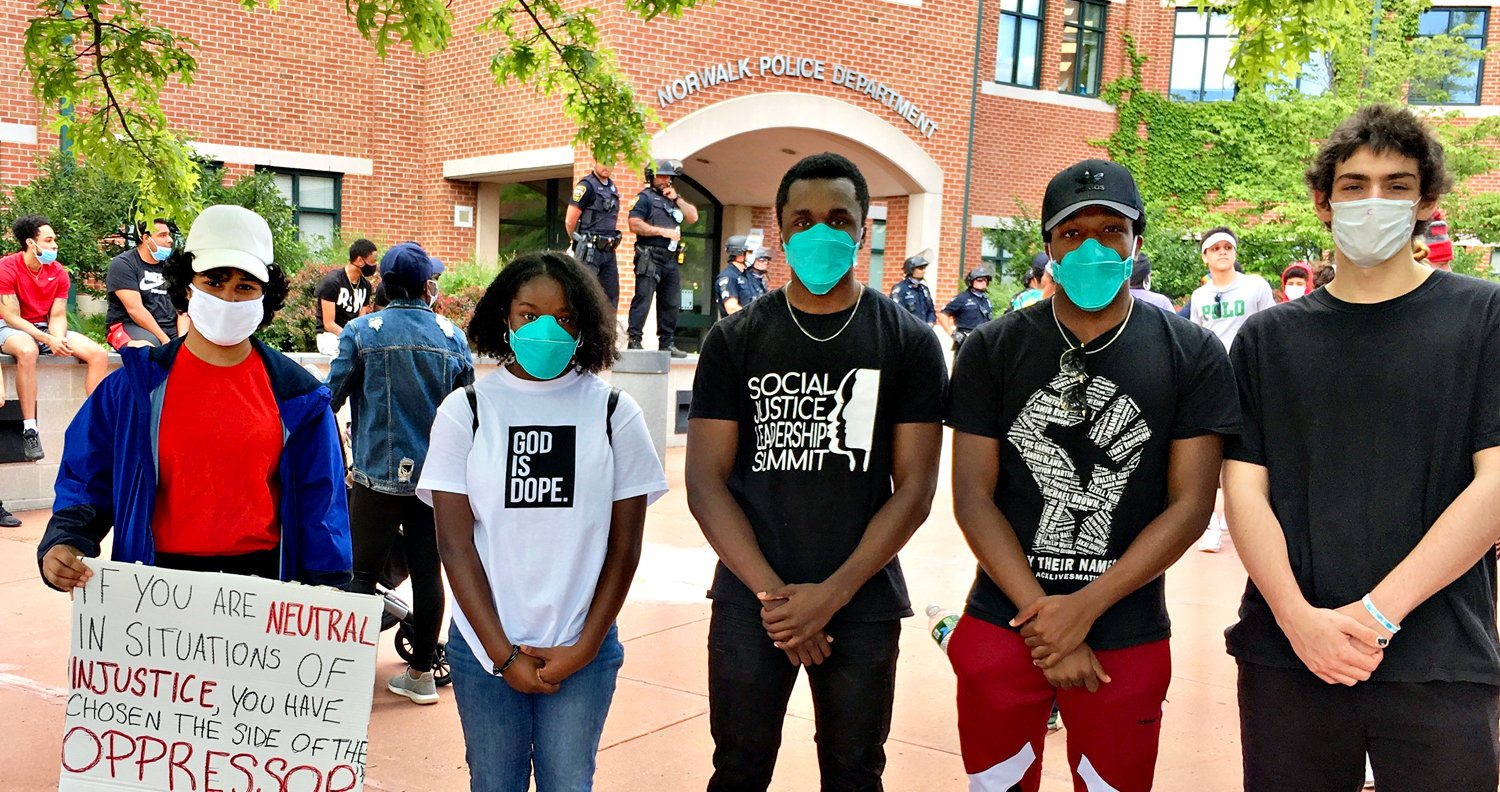 SLS Students Pictured: Aisha Memon, Naila, Zion, and Zaire Profit, and Logan Troeger at a Black Lives Matter peaceful protest.
When George Floyd was killed and the country erupted in pain and protests, Zaire '21 and Zion '22 knew we needed to talk about it in school. Zaire approached his advisor, Dale Griffa, who encouraged him to work with Head of Upper School Liz Perry. She suggested they host a Dive-In for faculty and Upper School students to come together and share what was on their minds.
A Dive-In is a St. Luke's Upper School open forum where we practice having difficult conversations. We establish ground rules to focus the conversation on broadening our perspectives and understanding. Zaire and Zion are members of the Diversity Leadership Council (DLC), a multi-racial student leadership group. Within days of deciding to have the Dive-In, the DLC hosted it on Zoom. Over 80 students and faculty attended. The emotions were palpable as people shared raw feelings about what was happening in our nation.
Our students and faculty were able to navigate these difficult conversations because this is something we practice at St. Luke's. This experience helped participants respect the confidentiality of ideas presented within the room and to speak from their own experiences and realities (so rather than say, "people feel…" you say, "I feel…"). It was clear that people came into the conversation from different perspectives and several spoke movingly about how the situation and the conversation were encouraging them to rethink some previously held beliefs.
The chance to open up, to face what was happening together, and to really hear each other was so important and had such an impact that the DLC decided to hold a second Dive-In for students only. I had the chance to interview both Zion and Zaire about their experiences:
Q: How did the Dive-In meet your expectations?
Zaire: The Dive-In exceeded my expectations. Not only the number of people who came but hearing some students talk about how their opinions were changing over the course of the conversation. We saw the usual students and faculty that always support, but there were also students and faculty I didn't expect to show up and I think that speaks to the magnitude of what happened. It felt refreshing to know that so many people within our community felt compelled to come and really try and understand.
Zion: The second student-only Dive-In was smaller, but that allowed for more free-flowing ideas. We created a document with resources in it and we'll be sharing that out with the community. We're really hoping that over the summer people have the time to really delve into this topic. There will be more protests, more opportunities to talk to legislators and advocate for their position.
Q. Have you been discussing what's been going on in any of your classes?
Zaire: More this week than last. I think it took a little while for people to process it enough that they felt ready to talk about it in class. We had a big discussion about it in American Studies, a class where we frequently try to incorporate what's going on in the world with what we're studying historically. There was obviously a lot to discuss with this situation, and it was a great learning experience for the class.
Zion: It was initially mentioned in some of my classes,, but then there were students who stepped up and asked if we can discuss it more because this is one of the most important times of our lives. So we wound up talking about it in English, math, history. This is history in the making. We even talked about it in Spanish because it's getting global attention.
Q: What would you want people to know from your perspective?


Zion: I would want them to know that this is not an isolated situation. This is the most recent example of what's been going on for hundreds of years. This is a systemic problem, not a personal, racial problem.
Zaire: I would encourage them to not be afraid to have uncomfortable conversations. And when you talk, make sure that your goal is to understand the other person's point of view, not to convince people of your view. Try to understand the experience of black boys and girls whose voices have been suppressed. It's not just about the police brutality, it's about the fear of even being approached and the inability to grow up and not have to have a talk about racism. Just listen.
Q: What have you learned throughout this whole situation?
Zion: I learned that there's a lot that I don't know that I thought I did, and I've learned that there are a lot of kids who are extremely sheltered from things like this. It would help them to know this stuff from a younger age so that when we get to moments like this, they'll be better equipped to look for answers and help create a path forward.
Zaire: I realized that I also have to do more research on things. I seek to have conversations with people who don't agree with me, and when someone says something like they don't believe mass incarceration exists and I challenge them to prove it, I have to be able to do the same thing. The biggest part of having these conversations is that there is so much history and facts that you can bring into it so there is always more to learn.
Q: How did you feel leading these Dive-Ins? What gave you the confidence to lead?
Zaire: It was honestly not hard for me because I didn't think of it as leading the discussion. I had wanted the Dive-In to be less about me and Zion and more about being a part of our community growth. I think that mindset made it easier to jump in and give comments as necessary.
Q: Any last thoughts to share?
Zaire: I think about all of the influence people in our community have outside of our community and I would say: Don't be afraid to get involved. The people who have the power are often the ones who are too frightened to use it. You can't be afraid to risk a little of your own personal standing in the community to make a big difference in the world.
St. Luke's Center for Leadership recognizes that learning and practicing the skills of great leadership are more important than ever. More blog posts on leadership:
https://blog.stlukesct.org/confidencetolisten

https://blog.stlukesct.org/sjlsforparents
https://blog.stlukesct.org/mlkheroicleader
https://blog.stlukesct.org/rememberingcivilrights
https://blog.stlukesct.org/studentleadershipsummit
St. Luke's is a private, secular (non-religious) independent school in New Canaan, CT serving grades 5-12. St. Luke's mission: An exceptional education that inspires a deep love of learning, a strong moral compass, the commitment to serve, and the confidence to lead.
Get our latest blog posts!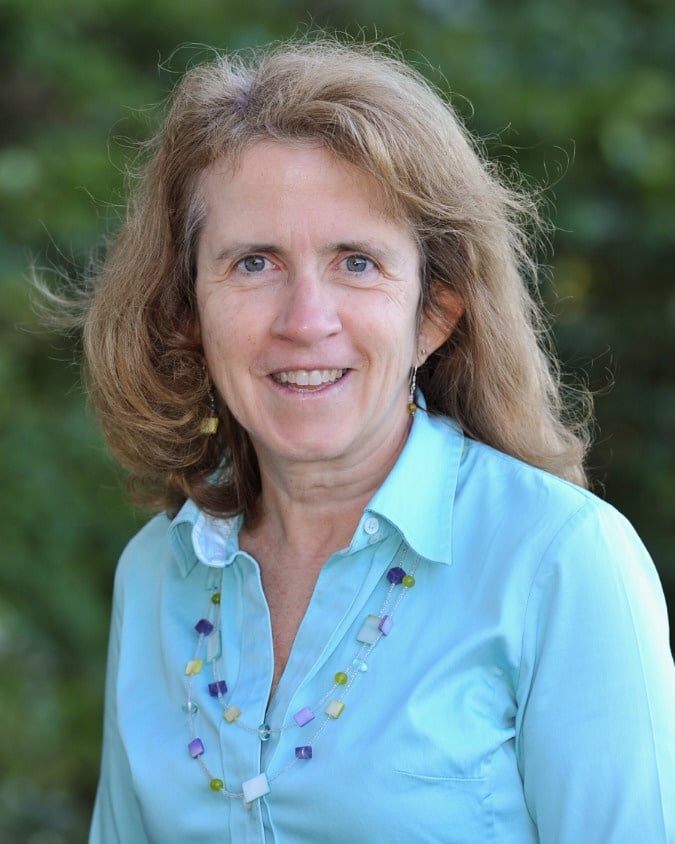 Kate Parker-Burgard is St. Luke's Director of Community Connections and has been at the school since 2003. Previously, she served as Director of St. Luke's Center for Leadership as well as Director of Character Education before assuming her current role in 2023. Kate holds a BA with a concentration in Religion from Hamilton College and a Master of Divinity degree from Union Theological Seminary. She was ordained into the United Methodist Church. She is also a member of the Board of the Foundation 4 Orphans.