"I appreciate all the work that was put into last night's book discussion sponsored by the Office of Equity and Inclusion. I was overwhelmed by the thoughtfulness of the evening...the framing of the discussion showed deliberate consideration to set a tone of openness, sharing and exploration. The efforts paid dividends as it was clear that the many participants in the discussion found connections between the themes in the book and their own experiences; connections they were willing to share with the assembled group in a safe and honest way."
This comment from a St. Luke's parent touched my heart, not because it surprised me but rather because it captured the essence of our efforts to promote and teach civil discourse. Listening respectfully to viewpoints that challenge ours, rubbing shoulders with and learning from people whose life experiences differ from ours, and examining our own assumptions even when that makes us uncomfortable...these are the essential elements, the very foundation of a civil society. Nothing could be more important for today's students, and nothing could be more central to a great school's mission that includes "a strong moral compass, the confidence to lead, and the commitment to serve." This is why we come together as a community to listen, to learn about one another, to try on new perspectives.
That's also why the St. Luke's Vision For Inclusive Excellence points—boldly, kindly—to a time when "every individual in our community learns in the rich context of a diverse population of students and faculty who come to appreciate one another's experiences, perspectives and talents through collaborative work, inquiry, dialogue and action."
And that's why—when speaking at the Cato Institute's Sphere Summit last summer—I defined our civil discourse efforts as girded with Steven Covey's Habit #5: "Seek first to understand, then to be understood." And that's why this year's State of the School theme —"The Confidence to Lead"—rings so true, as our school has the confidence to go where other communities dare not go in order to prepare our students to be citizens and leaders of a truly civil society. Because we base every decision on what's best for kids, and because we know the rewards (being fully educated, becoming an effective leader, working toward a more equitable society) will be great, we dare to ask them and ourselves to lean into tough conversations...into discomfort...respectfully.
"...our school has the confidence to go where other communities dare not go in order to prepare our students to be citizens and leaders of a truly civil society."
No doubt this is the harder path. It would be easier not to invite speakers to campus who challenge our beliefs, to avoid theatrical productions that tackle sensitive themes, to not ask the Anti-Defamation League to give us language and skills to stand up to hate, to not ask students to engage in difficult conversations. But just as we have a great faculty that can take our students above and beyond the Advanced Placement program, we also have the wise and caring adults who can guide and support students through content that stretches, challenges, and ultimately makes all of us better for having engaged with it.
As a learning community, we are all—faculty and parents included—learning together. Last year we had the incredible opportunity to hear from Anthony Ray Hinton, Lisa Damour, Michael Thompson, Alisyn Camerota, Jim Himes, and Ari Fleischer. Each of those extraordinary people stimulated our thinking and inspired us with their expertise, experiences and differing perspectives. Especially in a community such as ours where kindness, respect and open-mindedness are important values, we can learn together and model the behaviors and thinking dispositions that we hope to instill in our students.
Happily, we have similar opportunities this year. In addition to the Upper School and Middle School Anti-Defamation League programs, we can learn from and be challenged by Dr. Robin Diangelo (February 10th) and Nadine Strossen (April 21st). From very different perspectives, each of these distinguished speakers will challenge us to examine our beliefs and the assumptions that support them. Where I disagree, I know I will need to manage my own discomfort, and I hope I do so with clear eyes, honest self-reflection, and respect for opinions that challenge my own. I ask that of my students, and should expect no less of myself.
Our students represent our future. They deserve no less than our best—open-hearted— effort.
Read more about the Confidence to Listen...
Honor Code/Listening Respectfully
Student Leadership: Bringing Civil Discourse to Life
The Need for Civil Discourse: A Student's Viewpoint
St. Luke's is a private, secular (non-religious) independent school in New Canaan, CT serving grades 5-12. St. Luke's mission: An exceptional education that inspires a deep love of learning, a strong moral compass, the commitment to serve, and the confidence to lead. Schedule a visit today!
Get our latest blog posts!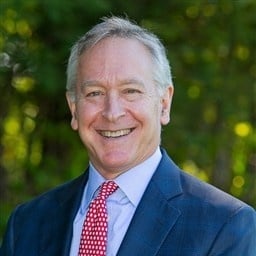 Before retiring in the summer of 2022, Head of School Emeritus Mark Davis was at the helm of St. Luke's exceptional rise over the last 20 years. As a forward thinker, and known for his ability to inspire innovation while preserving tradition, Mark was focused on what students will need to thrive in the future. He often wrote about ethical leadership, deeper learning, and mindfulness in education.