As an American History teacher, I've always been deeply interested in stories of human liberty. And it is in the quest for increasing human liberty that we celebrate Martin Luther King each year. This year marks the 90th anniversary of King's birth; he was born on January 15, 1929.
My interest in King goes back to my own school days and probably had more to do with watching Eyes on the Prize on my local PBS station than anything any of my teachers did in school. Several years ago, I got to spend a week touring Civil Rights History sites with the narrator of that classic documentary series, Julian Bond, who also happened to have been one of the founders of the Student Non-Violent Coordinating Committee and the retired Chairman of the NAACP. Bond was a giant in the Civil Rights Movement, certainly not as large as King, but inspiring in many ways. It is Bond's example as a Civil Rights educator that first inspired me to think about taking students on a teaching tour of some of the places in the South where human liberty was pursued with great heroism and vigor. St. Luke's will take its first such trip this March; we hope it becomes a mainstay of our educational programming.
On this anniversary of King's birth, though, I find myself returning to his life and its symbolic power for us as Americans, as teachers and students, and as parents. King exemplifies heroic leadership in ways that are particularly relevant to us today and particularly powerful in the context of schools. A small sampling of facts from King's life reminds us of some simple truths:
Change Can Be Led By Young and Well-Trained Minds
Martin Luther King was 26 years old when he began his pastorate at the Dexter Avenue Baptist Church in Montgomery, Alabama. Soon after, he was awarded a Ph.D. for his work in Systematic Theology by Boston University. In Montgomery, he quickly became involved in the Montgomery Improvement Association (MIA), a civil rights organization that coordinated the bus boycott that changed the national conversation about race. King assumed a public leadership role in that movement before his 27th birthday. He did so partly as a political expedient in the midst of long-brewing political conflicts in a city to which he was new. That he did not shy away from the action and the leadership opportunity that arose in Montgomery is, of course, remarkable evidence of his courage, but it is also remarkable evidence of the kind of change that can be led by young and well-trained minds. King stands out, in part, because of his relative youth. And we, as teachers and parents, ought to celebrate that youth as part of his exemplary heroism—one of the many reasons why we dedicate a day in our national calendar to celebrating his life.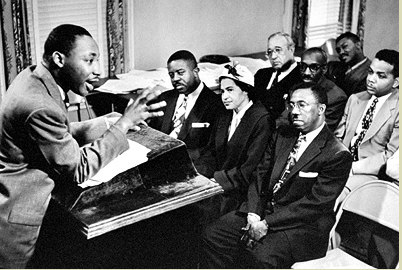 MLK at a meeting of the MIA 1955 (he's 26)
Note: The photo at top is MLK at about 19, at his Morehouse College graduation.

Few Americans Have Been So Internationally Recognized
It is also worth noting that Martin Luther King's philosophy of non-violent resistance— a philosophy that informed every decision he made as a leader within the Civil Rights Movement —was inspired by and derived from his study of figures as diverse as Henry David Thoreau, Leo Tolstoy, and Mohandas Gandhi (and, subsequently, the philosophers and social reformers who had inspired them). It is, in fact, because his philosophy was not wholly original that it is so important. Indeed, it is because his philosophy was derived from such varied inspirations that the movement he led became globally influential. While many statues and memorials commemorating King's ideas and accomplishments are to be found across the United States, King has also been memorialized in places as diverse as Sweden, Israel, Cuba, and the United Kingdom. Few other Americans have been so internationally recognized.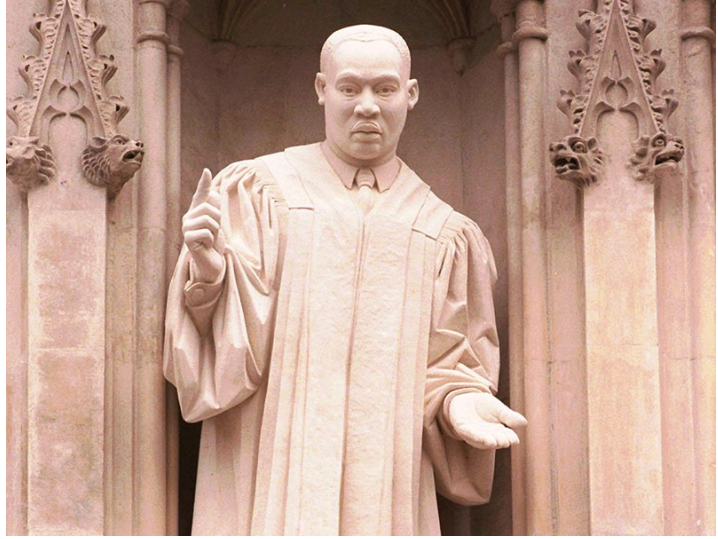 MLK carving above the Great West Door of Westminster Abbey in London.
A Diversity of Influences Strengthens Ideas
Part of what I take from King's example as a scholar-turned-political leader is that he was a great synthesizer. The diversity of influences mentioned above is what made his ideas stronger, more durable. He was not just well-informed; he drew strength from different strains of thought and different religious traditions in a way that almost perfectly exemplifies the best humane ideas produced in the 20th century.
Equality of Rights is a Foundational American Value
Finally, we all do well when we ponder what has become of King's vision for America's future. While it is appropriate to recognize that King's thinking evolved considerably over time and that he decried the war in Vietnam and developed a powerful message around issues of economic justice in his last years, and even appropriate to admit that King's thinking would have evolved much further and in unpredictable ways had he lived to celebrate his 90th birthday, it is the vision he articulated most famously during the March on Washington that sticks with most of us and deserves our closest attention. The vision of a world in which people are judged not "by the color of their skin, but by the content of their character" seems, sadly, to have lost a bit of its luster, but that does not make the vision any less relevant. Whether we prefer King's vision or Jefferson's ("all men are created equal…"), the notion of a natural equality of rights being a foundational value is important to all Americans.
An Education Where Students Build Moral Strength & Courage
It is worth remembering in today's political climate that, in the late 1950s and early 1960s, King was an unapologetic integrationist. He perhaps could not have anticipated the rise of identity politics later in the 20th century; but I cannot help but wonder how uncomfortable the shift away from a focus on the commonalities of human nature would have made him. Frankly, we owe it to our students to help them deal with the contradictions in a world in which we are called both to celebrate our differences and appreciate our commonalities while simultaneously developing our own "personal passions" and "pursuing excellence" in every facet of our lives. King's clear and simple vision can serve as a powerful antidote to the challenging (at times confounding and contradictory) moral and political milieu in which today's children grow up. Returning to a notion of judging people by their character—an aspect of our humanity filled with virtues of kindness, integrity, and generosity of spirit—would simplify things a bit. The legacy of King's dream is, I hope, a call to this kind of education; one through which students build moral strength and courage.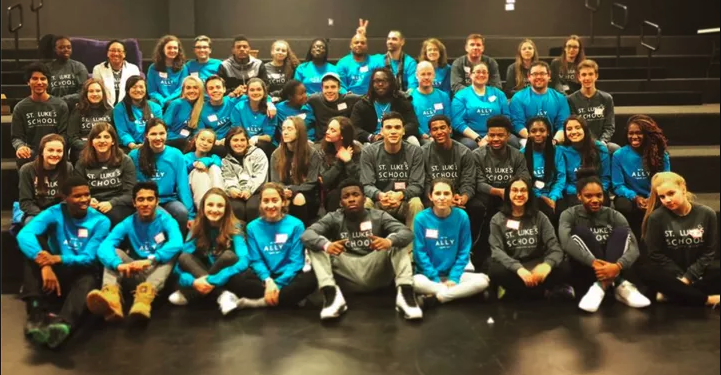 Student Leaders at an annual St. Luke's Social Justice Leadership Summit
-------------------------------------
You may also enjoy reading:
St. Luke's Social Justice Leadership Summit
A Powerful Example of Moral Courage
Anthony Ray Hinton at St. Luke's
St. Luke's is a private, secular (non-religious) independent school in New Canaan, CT serving grades 5-12. St. Luke's mission: An exceptional education that inspires a deep love of learning, a strong moral compass, the commitment to serve, and the confidence to lead.
Get our latest blog posts!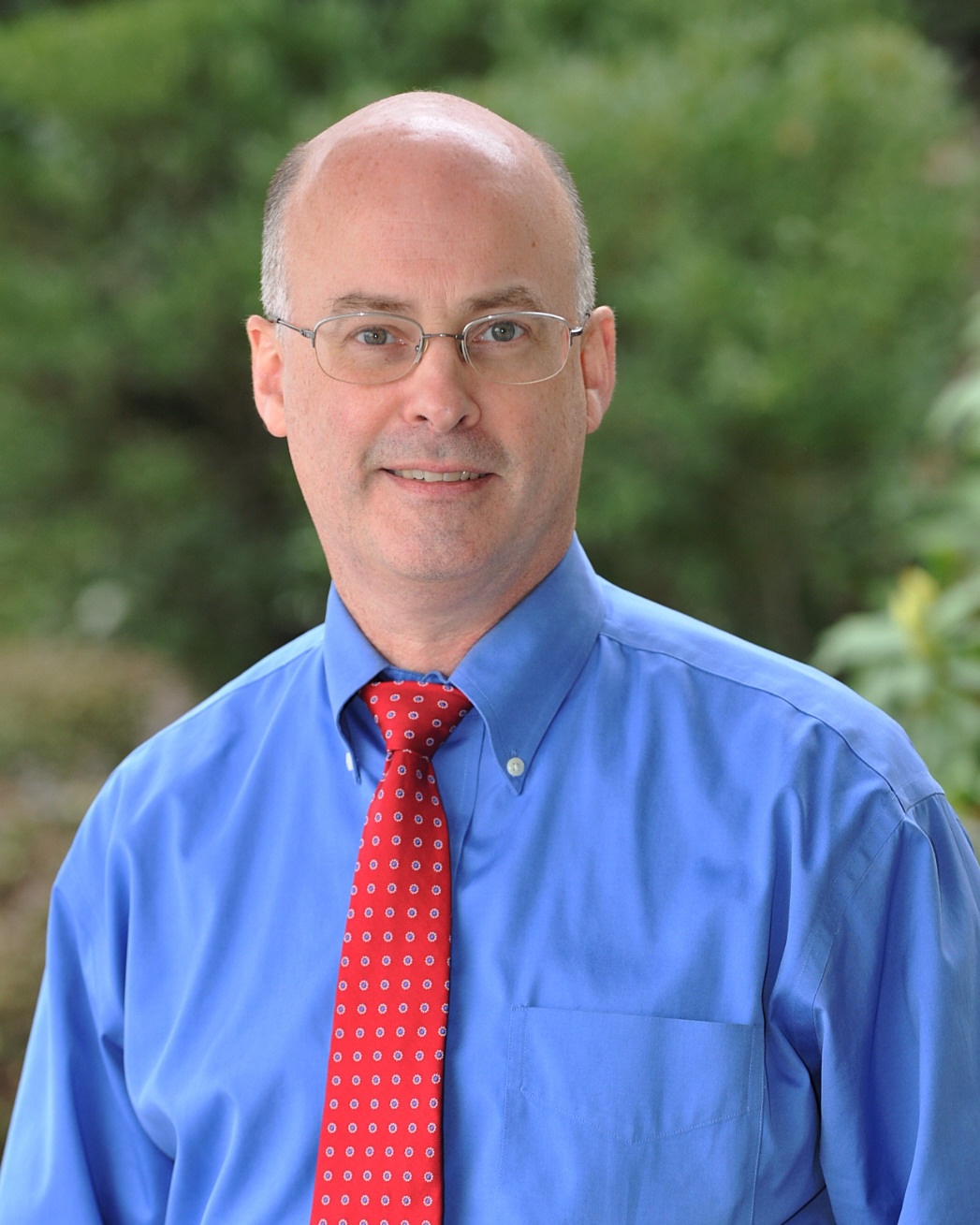 Jason is Chair of St. Luke's Upper School History Department and teaches U.S. History and AP U.S. Government & Politics. He is also a student advisor and co-leads St. Luke's Global Scholars Program. Jason earned three degrees at the University of Virginia, taking an M.A. in English Language and Literature, as well as an M.A. and Ph.D. in Government.