St. Luke's has a tradition of inviting students and teachers (and Heads of School) to come up on stage to share a meaningful experience and impart a lesson. We call this sharing a Meditation. For our first Meditation of the year, I shared the story of Tommie Smith, John Carlos and Peter Norman, three Olympic athletes who stood against injustice but paid a heavy price.
I hope you enjoy the Meditation. It's my small tribute to three men whose moral courage should not be forgotten and whose example still inspires nearly 50 years later.
Head of School Mark Davis delivers first Meditation of the year
Get our latest blog posts!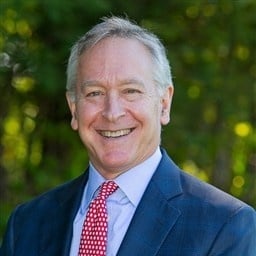 Before retiring in the summer of 2022, Head of School Emeritus Mark Davis was at the helm of St. Luke's exceptional rise over the last 20 years. As a forward thinker, and known for his ability to inspire innovation while preserving tradition, Mark was focused on what students will need to thrive in the future. He often wrote about ethical leadership, deeper learning, and mindfulness in education.