In a typical school year, we recognize Veterans Day in a special way.
Among other activities, we host Grandparents Day (for 5th graders) and have an all-school assembly. There, we honor grandparents who were veterans and staff members who served, and I give a short talk on the historical significance of Veterans Day and its particular meaning to us at St. Luke's. Because we can't do those things this year, I wanted to share the remarks I would have made at the assembly.
With thanks to all veterans, I offer those remarks below.
Hello students and grandparents, and welcome to our annual tradition of hosting grandparents and special friends on the same day that we celebrate Veterans Day. We are honored by the presence among us today of several grandparents who are veterans of the armed forces. I hope you will indulge the history teacher in me and my custom of giving a brief lesson on Veterans Day.

November 11th is the anniversary of the Armistice that was signed by the Allies and the Germans in 1918, ending World War I. Twenty years after the end of WWI, in 1938, Congress made November 11th an official day of celebration by passing a bill stating that each November 11th "shall be dedicated to the cause of world peace and…hereafter celebrated and known as Armistice Day."

Sixteen years later, in 1954, Congress changed the name of the day to Veterans Day. This was because by then, we had been through World War II, and World War II had created many new veterans for whom WWI held little or no meaning. Given that the word "armistice" refers only to a "truce" and was associated in most people's minds with the end of WWI, many veterans' groups thought Armistice Day did not sufficiently recognize the contributions of all American veterans. They wanted to make November 11th the time to honor those who had fought in various American wars, not just WWI, so Congress changed the name to Veterans Day.

It's also important for us to remember that this day has a dual meaning for us.

It is a day in which we salute and honor the men and women who have served in the armed forces, risked their lives in that service, and in many cases, died in the course of that service. Many of you know of the tomb of the unknown soldier in Washington, D.C., a symbol representing all of those brave people who made the ultimate sacrifice in serving their country. While our 8th graders will not be able to visit the tomb this year, many of you upper schoolers did when you were in 8th grade and went on our annual trip to Washington.

This also is a day in which we celebrate the ideal for which all of those brave men and women served – namely "peace," as signified by the word "armistice." As President Woodrow Wilson said on November 11th, 1919 in his Armistice Day proclamation:

"To us in America, the reflections of Armistice Day will be filled with pride in the heroism of those who died in the country's service and with gratitude for the victory, both because of the thing from which it has freed us and because of the opportunity it has given America to show her sympathy with peace and justice in the councils of the nation."

Peace and justice. Our veterans have served on behalf of these ideals in many wars between the First World War and the recent conflicts in Iraq and Afghanistan. Given our school's emphasis on service – in our mission of preparing responsible citizens and in our motto of "Enter to Learn, Go Forth to Serve."

We now take great pride in recognizing the veterans in our community:

Upper School teacher Mr. Goetz, who served as an officer in the US Navy for ten years, and Sodexo team member Jerald Botley, who served two tours in Iraq and Afghanistan as a member of the US Marine Corps.

As most of you know, we talk about leadership a lot at St. Luke's, defining what it means to us and seeing how each of us—no matter our personality or our interests—can lead in meaningful ways. Grandparents, of course, are natural leaders in the eyes of their grandchildren. They also represent the generational continuity of their families, and they help transmit values and traditions that shape their families and contribute to the growth and well-being of their grandchildren. In many ways, they lead simply by the example they set, and for some of them, that includes having served in their country's armed forces. As I mentioned a moment ago, we are fortunate—and we are honored—to have with us today several veterans who are grandparents of St. Luke's students. I would like each of them to stand when I announce their names, and once they are all standing, we can give them a big St. Luke's ovation to thank them for their service.

*Applause*
St. Luke's is a secular (non-religious) private school in New Canaan, CT, for grades 5-12. St. Luke's mission is an exceptional education that inspires a deep love of learning, a strong moral compass, the commitment to serve, and the confidence to lead. St. Luke's Center for Leadership advances our mission by helping students develop exceptional leadership ability.
Get our latest blog posts!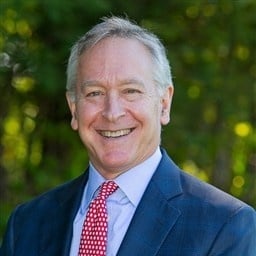 Before retiring in the summer of 2022, Head of School Emeritus Mark Davis was at the helm of St. Luke's exceptional rise over the last 20 years. As a forward thinker, and known for his ability to inspire innovation while preserving tradition, Mark was focused on what students will need to thrive in the future. He often wrote about ethical leadership, deeper learning, and mindfulness in education.