Surprisingly, in the busyness that is fall, I found a moment of organization this past weekend. I'll be hosting Thanksgiving this year, and I'm determined to get it right. The turkey, the stuffing--even the table centerpiece. I've been perusing Pinterest getting all sorts of ideas. I raided the old craft coffers, leftover from when my kids were young, pulled out my parent's 1950's kitschy turkey vase and grabbed the wooden candlestick holders my father-in-law handcrafted back in the '60's. Well, what resulted was not Pinterest worthy in the least. Think toddler mess crossed with pumpkins. I was certainly frustrated. Why didn't it look like all the perfection I had been inspired by online? But then it hit me.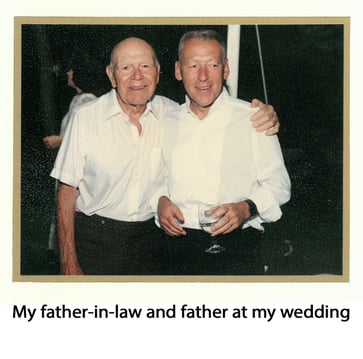 I realized what was most important was how much I'm looking forward to spending the holidays with those I love including those who aren't at the table anymore. That kitschy turkey will conjure up stories my mother will tell my children about my father, who passed in 2013, working long hours during medical school and residency to support a wife and newborn child—that turkey vase central to their tiny table and meager holiday meal in those early years. The candlesticks will most certainly bring forth stories of my father-in-law, one of the first American physicians to open the gates of Dachau after landing at Omaha beach and marching and fighting for months with fellow soldiers to liberate Europe. We'll gather in the dining room of our 1790's farmhouse and be reminded of the many who have come before and shared meaningful moments within the sacred space of family and friends.
I am incredibly blessed in that I get to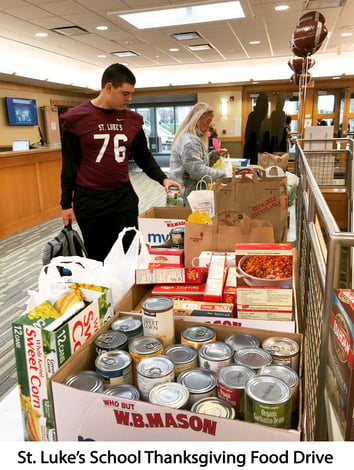 experience the joy and sharing of the holiday season throughout the year at St. Luke's. I've had a front row seat to watch our students cheer each other on from the sidelines, and encourage one another while acting out Shakespeare in the 6th grade and other thespian productions. I get to marvel at the creativity and artwork produced by our students that graces our hallways and new art gallery, be intellectually challenged by outstanding teachers (e.g. Jason Haynes in the Parents' Association Master Class), watch the care and empathy that went into our holiday food drive and be absolutely moved by music during our annual Blues band concerts.
I also love this time of year because we often have alumni, who are back in town, visit campus. We're regaled with wonderful memories of kindness, laughter, joy and generosity--the essences of St. Luke's. I can begin to picture the "long maroon line" that James Andersen first described at at the State of the School 2018—that long line of families stretching back decades who have gone Above and Beyond to ensure St. Luke's reaches its potential—for their children, for our children, and for future generations.
As we lead up to break, let's find moments to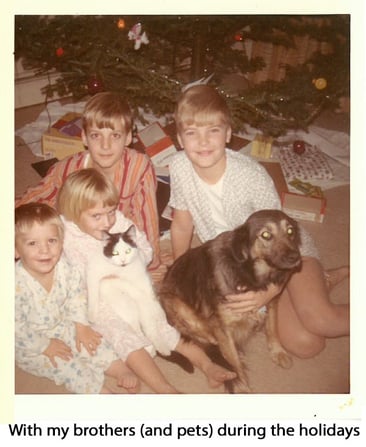 gather and tell the stories of people who came before and the lessons they taught us and find joy and hope in the new stories yet to be made. Although I'm looking forward to filling that turkey vase, I know it's not the symbols that make holidays meaningful. I hope we all will remember as we enter this holiday season—it's the people, the memories, the joy and the sharing that create the true spirit we seek.
I'm a big believer in less is more, and I love to lean into this with intent as the holiday time approaches. As I said in my meditation to students , it's through simplicity that peace of mind, and freedom, are achieved.
Personally, I am looking forward to ugly sweater Fridays, gaining 20 pounds in the span of a few weeks, sharing joy and above all being with your children.
With deep gratitude -- Julia
If you enjoyed this post, please read 3 Ways to Kickstart Gratitude by Head of School Mark Davis.
---
Get our latest blog posts!
Julia Gabriele is a 30-year veteran of St. Luke's. She began her career as a teacher, held many leadership roles including Head of Upper School, and in 2007 became the Assistant Head of School for Finance & Operations.