Junior Dean Ambrose turned his love of tinkering and passion for service into Building for Nonprofits —one of St. Luke's School's most active student clubs.
Dean and the near 50 St. Luke's students in the club are crafting everything from desks or tables to birdhouses, all to support local nonprofits in need. In the below Q&A with Dean, we learn more about his love for service, how the club started, and some of the projects they are currently working on.
Why did you start Building for Nonprofits?
Since I was a kid, I've loved to build things. I was always tinkering with whatever I could find and seeing what I could create. As I got older, I enjoyed helping others and giving back through service. I decided to combine my two interests and see if nonprofits could use help building things for their organizations.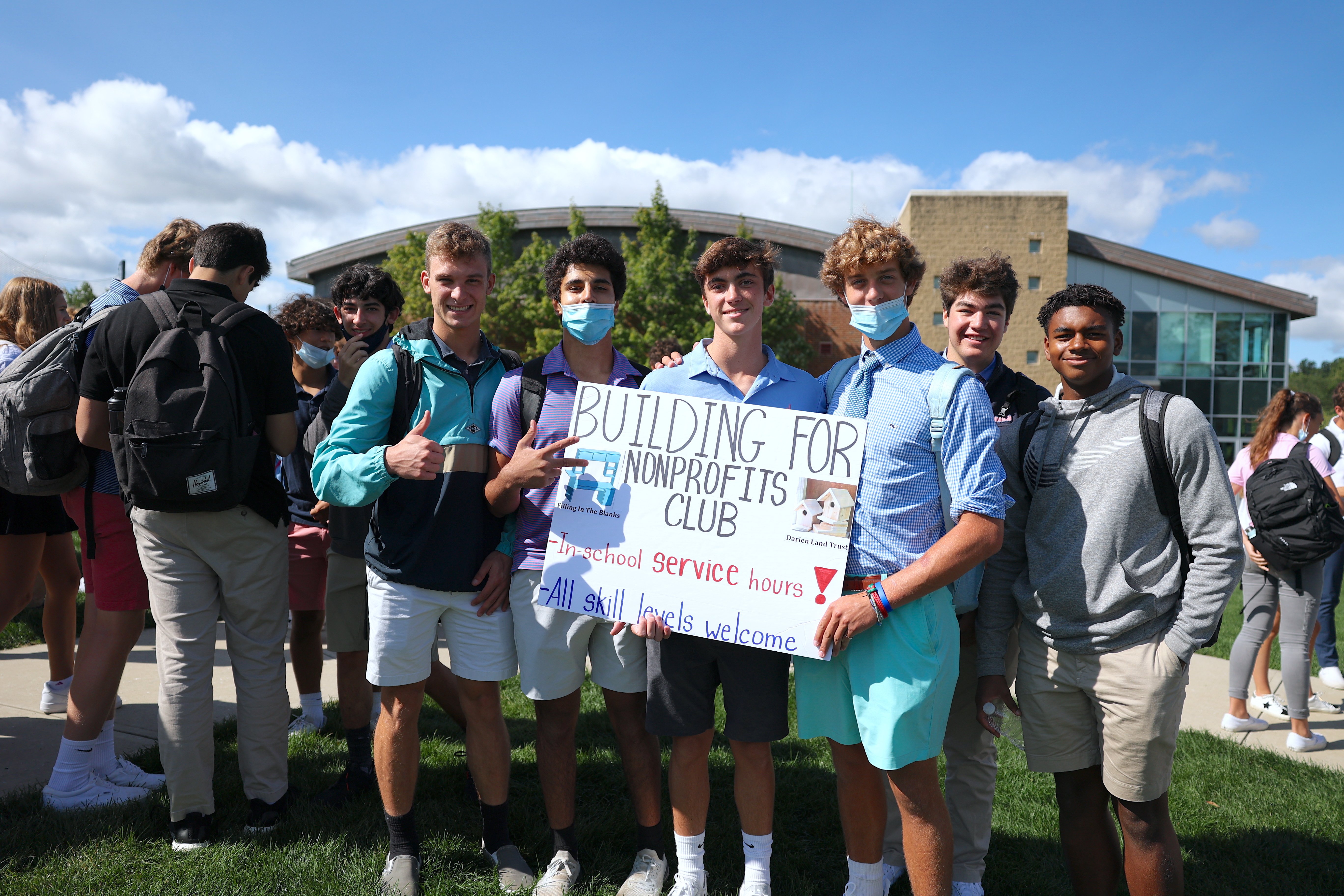 At the Upper School Club Expo recruiting new members.
How did you get started?
Over the summer of 2021, I reached out to several nonprofits in Fairfield County to see if they needed building projects and started curating a list of all the places that could use our help. Filling in the Blanks shared that they were in great need of a desk and storage unit for their warehouse. I decided that I would help, and I spent the summer mowing lawns to raise money to fund the project.
Dean Ambrose '23 and Harrison Bennett '23 build a storage desk for Filling in the Blanks.
When school started, I connected with the Center for Leadership to officially start the club, and a few weeks after school started, a few friends and I set up a booth at the Upper School Club Expo. We had more than 40 students sign up to join us.
Tell us about the project and what you learned.
I was excited to be able to help! St. Luke's works with FIlling in the Blanks regularly, so I knew it was a great organization to partner with. I researched how to build a desk and made several trips to Ring's End Lumber to purchase supplies - and use their employees' expertise to ensure I was doing it correctly. With a few friends, we built Filling in the Blanks a desk. It took us over 100 hours to finish the project! Looking back at it, we may have taken on more than we were ready for, but it was very fulfilling to see the finished product, and we learned a lot along the way. The most important skill we learned wasn't how to build something but how to fix something. Wood bends and warps, and we needed to know how to straighten it.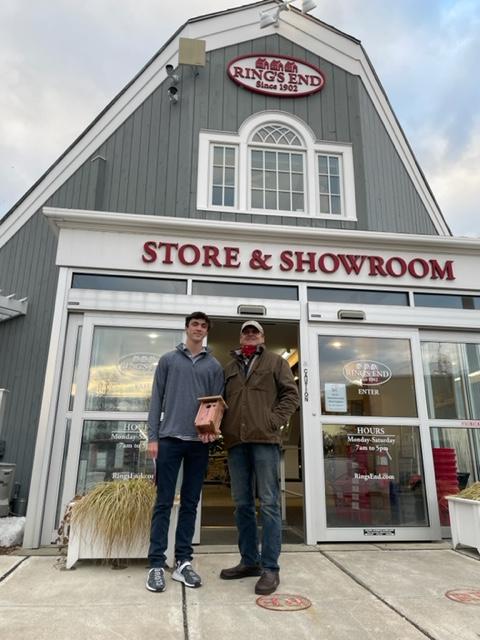 Dean at Ring's End Lumber.
Now that Building for Nonprofits is an official St. Luke's club, what are you and the other students working on?
After completing the desk, we moved on to a birdhouse project with the Darien Land Trust. The organization will be auctioning off birdhouses as a fundraiser for the land trust and asked us if we would be interested in creating them. In total, our club would construct 20 birdhouses for bluebirds. We worked together with the Darien Land Trust and St. Luke's designLab to create a prototype. Once the prototype was designed and approved, 11 members of the club worked to build the 20 birdhouses.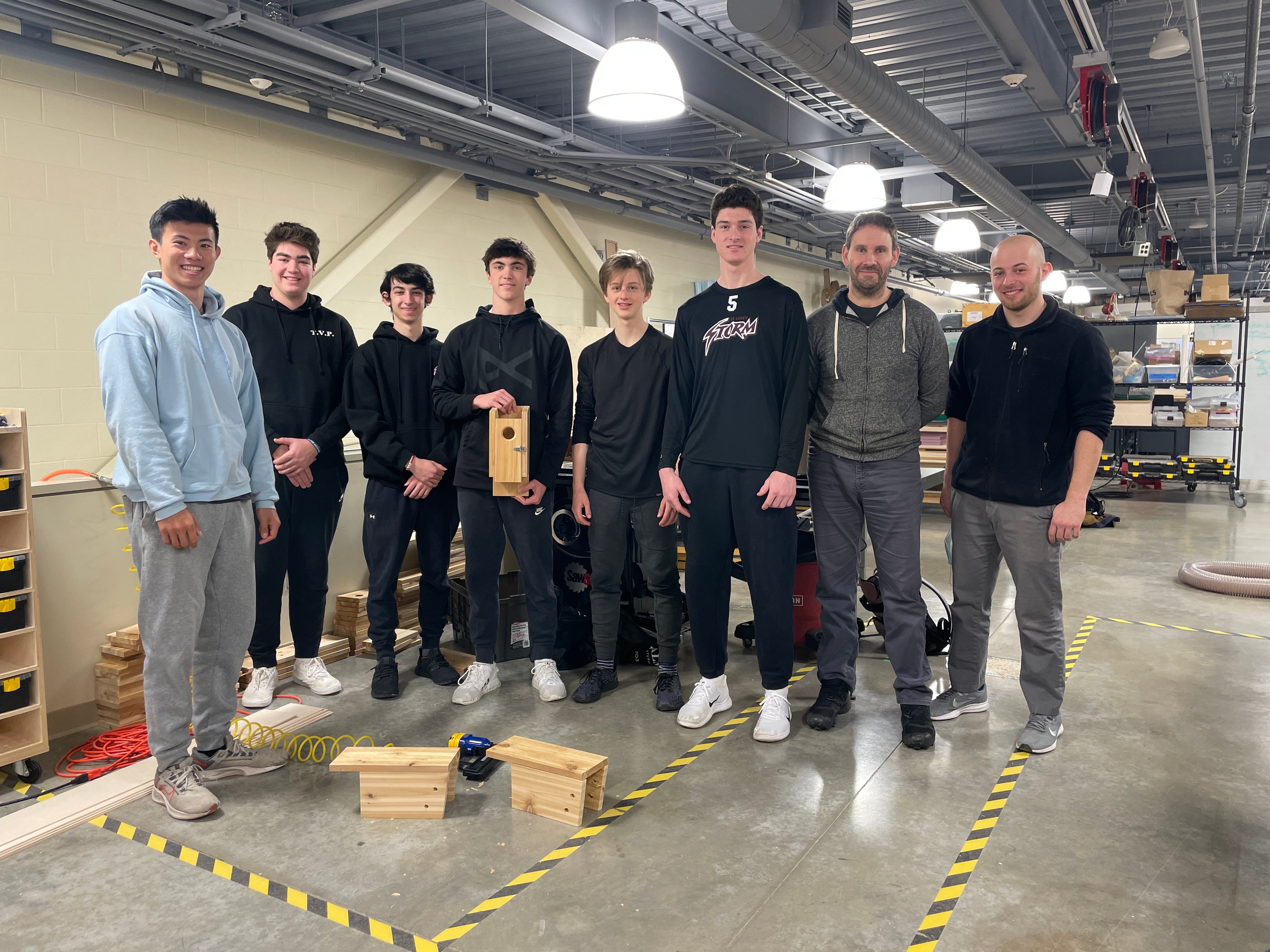 Members of the club meet with designLab faculty for guidance on the birdhouse prototype.
What's next for the club?
Building for Nonprofits meets Mondays and Fridays during Club Time in the designLab. This spring, we will be working on picnic tables for the Ridgefield Boys & Girls Club. We are always looking for new members and new partners. You can reach out to the Center for Leadership or me. You can also follow our progress on Instagram @BuildingforNonprofits.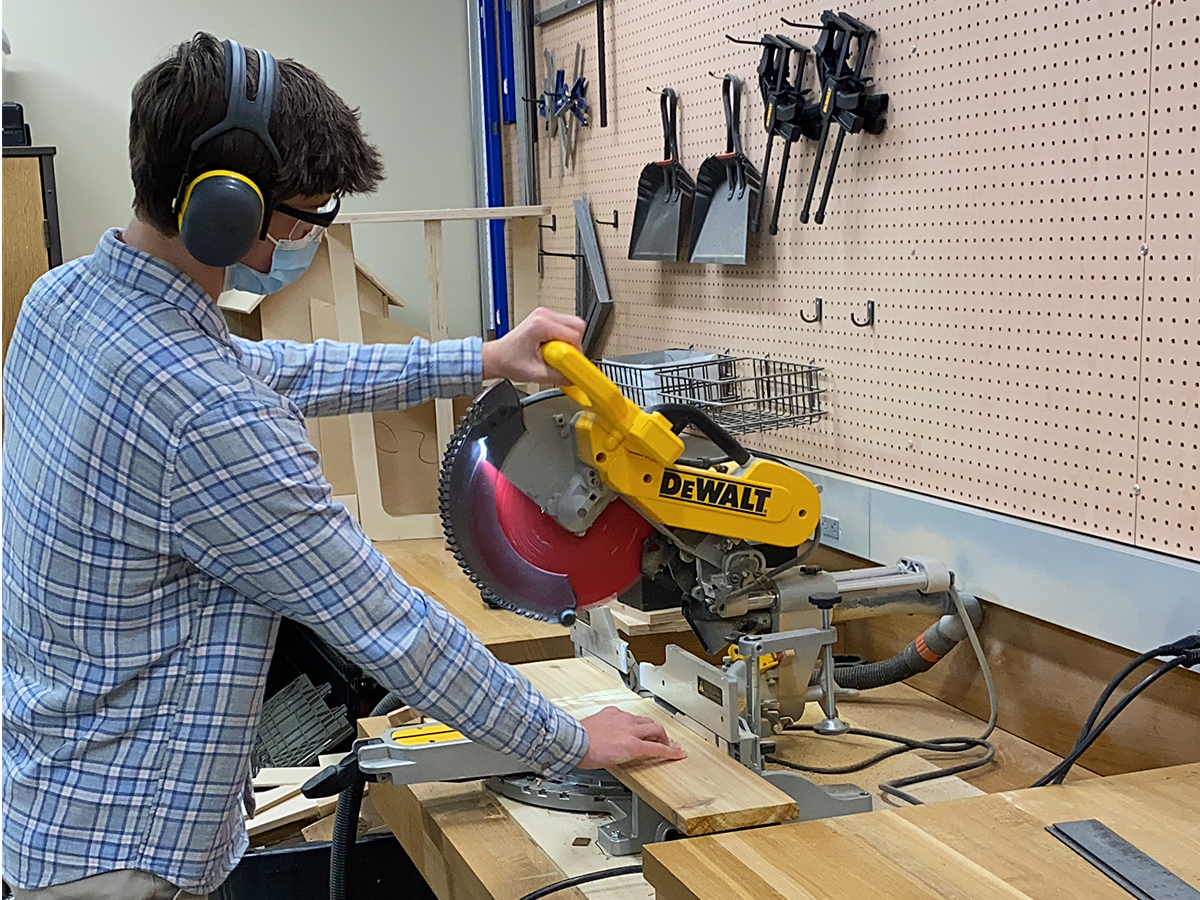 Working with the tools in designLab.
What do you find most rewarding?

It's really satisfying to reach out to organizations; they appreciate our help and everything we do. It's great to know that our experience in building and our physical labor really benefit the nonprofits that are doing great work.
For additional photos, please click here.
Read More:
The Sentinel: How The Building for Nonprofits Club Upgraded Filling in the Blanks
Get our latest blog posts!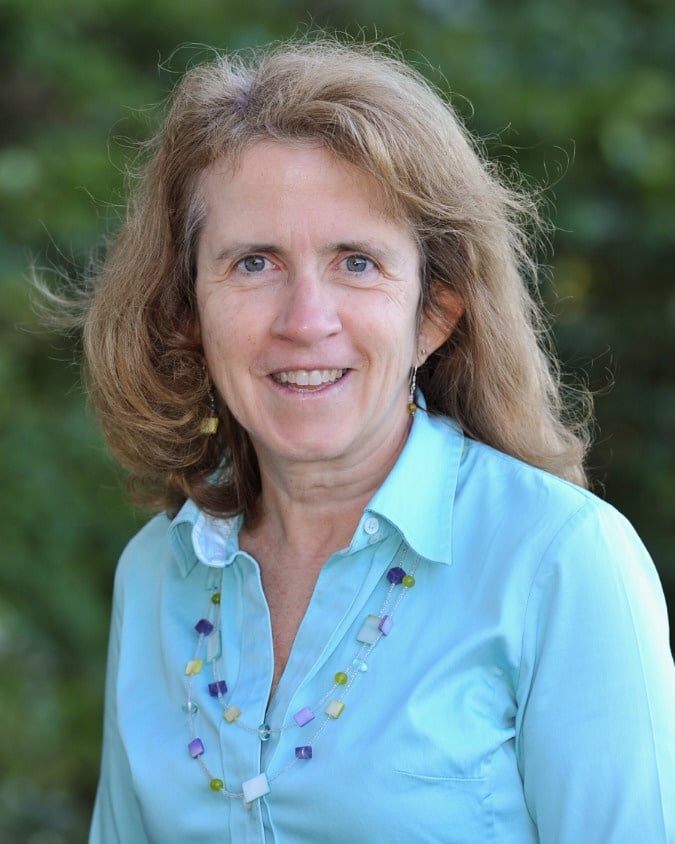 Kate Parker-Burgard is St. Luke's Center for Leadership Director and has been at St. Luke's since 2003. She served as St. Luke's Director of Character Education for many years before assuming her current role in 2018. Kate holds a BA with a concentration in Religion from Hamilton College and a Master of Divinity degree from Union Theological Seminary. She was ordained into the United Methodist Church. She is also a member of the Board of the Foundation 4 Orphans.