At a time when common courtesy and respectful debate feel like distant memories, I was uplifted by Political Discord & Civil Discourse, a student event hosted by St. Luke's Center for Leadership.
Our guests were CNN anchor and St. Luke's parent Alisyn Camerota and Congressman Jim Himes. I moderated the discussion which covered the rise of tribalism, the limits of media echo chambers, and the power of respectful disagreement.
Camerota and Himes brought civil discourse to life—listening to one another, and to our students' thoughtful and thought-provoking questions. There was often disagreement but always expressed with respect, with facts, and with decorum.
Below is a video of Political Discord & Civil Discourse. If you wonder what it looks like when students find their voices—make sure to watch through to the very end.
On May 16, Ari Fleischer, former White House Secretary for President George W. Bush, will join students for another Political Discord & Civil Discourse assembly.
St. Luke's is a private, secular (non-religious) independent school in New Canaan, CT serving grades 5-12. St. Luke's mission: An exceptional education that inspires a deep love of learning, a strong moral compass, the commitment to serve, and the confidence to lead.
Get our latest blog posts!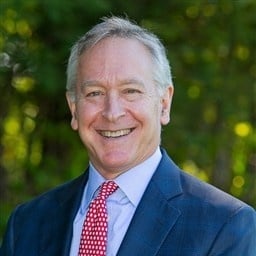 Before retiring in the summer of 2022, Head of School Emeritus Mark Davis was at the helm of St. Luke's exceptional rise over the last 20 years. As a forward thinker, and known for his ability to inspire innovation while preserving tradition, Mark was focused on what students will need to thrive in the future. He often wrote about ethical leadership, deeper learning, and mindfulness in education.