Growing up in New Hampshire, there's nothing I hate more than heat and humidity. I'm pretty certain I've biologically evolved to function more efficiently in frigid cold, deep snow and long spring, er, mud seasons. So, when I pulled my group's first day volunteer duty, and it said we'd be outdoors and the temps were predicted to be in the 90's, you can imagine the collective groan I had to stifle. Yes--a full day in 95-degree sweltering heat and biting flies, laying irrigation and spreading mulch at a community garden that provides safe, green space, and fresh fruit and vegetables to local residents. But what emerged from that first day, and the days following was a rewarding experience that helped us all learn about service and to grow as a community.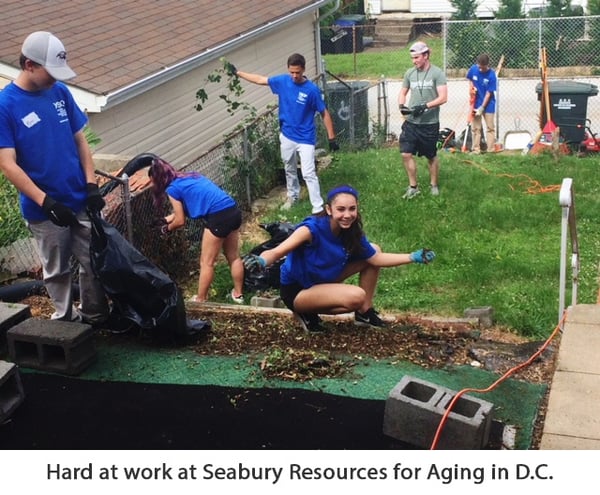 Seventeen of us embarked, sleeping bags in hand, on Father's Day, headed for Washington DC on St. Luke's annual Youth Services Opportunities Program (YSOP). According to the YSOP website: Founded in 1983, YSOP was established in the same spirit as the original international Workcamp movement which began in the 1930's – the idea of a broad movement of people of different faiths, countries, races, vocational and class backgrounds who would work together in service.YSOP engages youth, college students and adults in meaningful service experiences through an innovative program that combines an orientation to the issues, hands-on volunteer work and reflection.

In my group, we laid over 1000 feet of irrigation at Marvin Gaye Greening Center, organized and help serve a meal and lead a senior exercise class through Iona Senior Services and mowed and weeded a resident's lawn through Seabury Resources for Aging. Our group also organized and packed over 1000 meals at Friends and Food, one of the best-run nonprofits I've ever seen.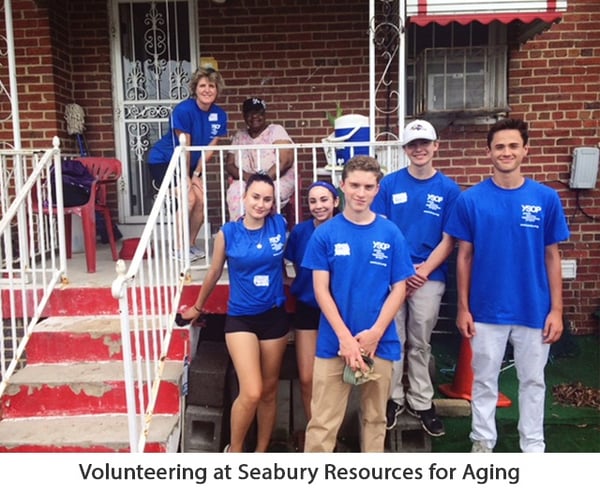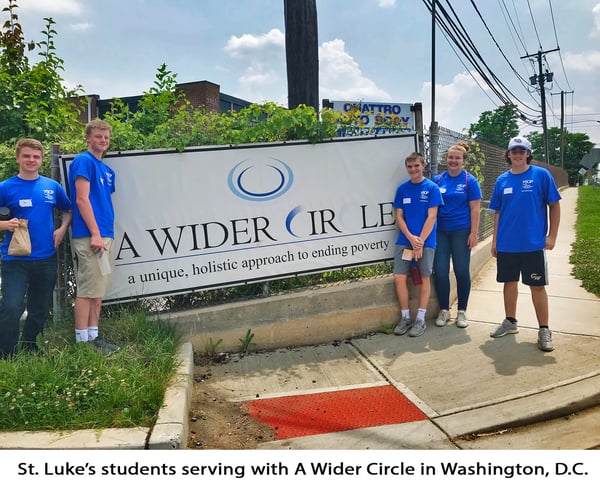 It was incredible for our kids to see the wide variety of service opportunities that exist. Even more educative and inspiring were the positive examples of staff members and volunteers we met along the way. So many good people doing great work out there. How lucky that our kids had the opportunity to learn from and serve alongside them.
In between service opportunities, the kids took in some museums, sampled the local cuisine and one night fortuitously stumbled upon the US Marine Corps Band exercises, at sunset, overlooking the Lincoln Memorial. A moment to remember.
Another experience none of us will soon forget was cooking and serving dinner to a group of homeless individuals. Our kids made sloppy joes, chopped cabbage for coleslaw, and scooped ice cream on brownies. They played board games and served but most of all they listened and learned. An evening that began with some awkward moments (our kids not knowing what to expect) ended with heartfelt hugs, promises to stay in touch via the YSOP office, and an evening reflection that summed up what an incredible experience the week had been.
Our students walk under our School's motto daily: "Enter to Learn, Go Forth to Serve." They did just that—even in the heat with biting flies.
---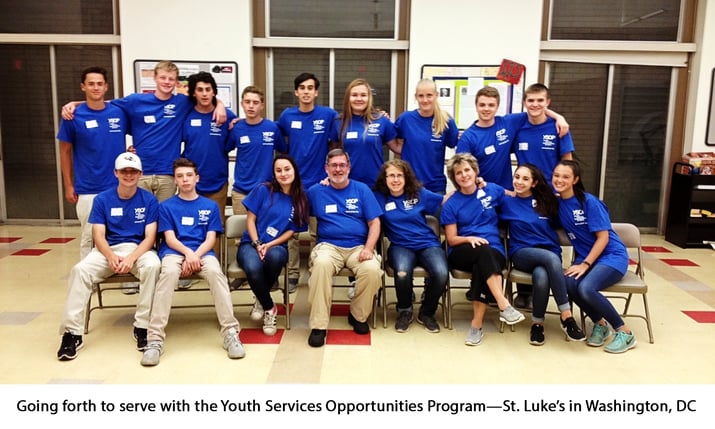 Get our latest blog posts!
Julia Gabriele is a 30-year veteran of St. Luke's. She began her career as a teacher, held many leadership roles including Head of Upper School, and in 2007 became the Assistant Head of School for Finance & Operations.