Student Leadership at St. Luke's
One of the highlights of my job is teaching students the skills to become exceptional leaders. Effective communication, creative problem solving, skillful collaboration, and deep listening all guide students toward authentic and empathetic leadership. At St. Luke's Center for Leadership, we start building these foundational skills in fifth grade. Through various grade-appropriate experiences such as service, speakers series, advisories, and Community Goals for Learning, our students grow confidence in their ability to lead.
The goal is not just to prepare students academically but to send them into college and career with an equity mindset, kindness, and service orientation. We want to prepare them to strive for the answer to, "How can I make this better?"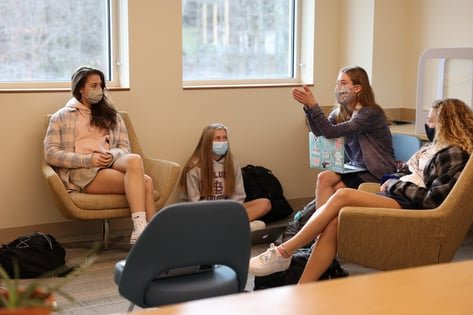 St. Luke's students participate in a Community Goals for Learning conversation.
Asking Ourselves the Very Same Question
St. Luke's students graduate and go into the world prepared and ready to lead others, and as our motto says, "Go Forth to Serve." But how could we get even more students prepared with these critical skills? Asking myself the same question we ask our students, how can I make this better, I realized that if more educators and institutions were teaching leadership skills as part of the curriculum, more students would graduate prepared to lead in college and life.
Teaching Teachers, Leading Leaders
With a goal of increasing the ability of educators able to teach leadership, I jumped at the chance to apply for the Center for Spiritual and Ethical Education (CSEE) 2020-2021 Visiting Scholars Program. This program provides independent school educators with an opportunity to join the CSEE team for one year (in addition to their regular teaching position) to share their knowledge, in a specific discipline, with educators throughout the United States.
In the early days of the pandemic, I was one of three scholars selected for the program, and it was an honor being chosen. With the momentum around leadership development building in schools across the country, I embraced the opportunity to share the successes from St. Luke's Center for Leadership with other educators and push myself professionally. The program became an incredible opportunity to lead leaders and assist institutions in creating their own leadership curriculum and implementing strategies that would teach students the critical leadership skills needed to succeed in school and life.
As a Visiting Scholar, I co-presented a workshop on service learning, coordinated a Dean of Students Summit focused on leading through challenging times, served on the planning team of a Service Learning Conference on equity, power, and privilege, and am facilitating the Student Leadership Development Group—a virtual gathering of educators who discuss ways to develop authentic and confidence-building student leadership skills.
Educators Identify A Life Worth Living
A highlight of my Visiting Scholars year was in February when Mark Davis and I had the opportunity to present a three-part course for school leaders on Life Worth Living. Life Worth Living is a class that Mark and I teach at St. Luke's School as part of our Leadership Studies department, based on the wildly popular course at Yale University. This class spurs critical thinking on what constitutes a flourishing life. It draws upon several religious and philosophical traditions as students and teachers approach the core question: What is a life worth living?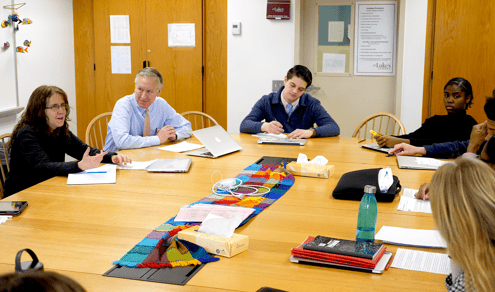 Co-teaching Life Worth Living with Head of School Mark Davis.
Mark and I offered other educators tools for approaching these existential questions with students and introduced them to a course structure and content that could be replicated in their schools. More than 30 school leaders participated in our course this winter. Throughout the three, 90-minute sessions we outlined the structure of the class at St. Luke's, provided curriculum resources, and gave them samples of class discussions. I enjoyed sharing this coursework with peers and encouraging each school to think about how they might structure this type of class for their community.
After the first class, a colleague at another school sent me a quick email, "I've been meaning to tell you I am getting a lot out of the class already. I can't wait for session two. Thank you for sharing this curriculum with us." At least one other class participant has reported that he's made plans to implement a similar class at his school next year. It's so exciting to know that what we're doing at St. Luke's can take root and grow in other schools.
The Future of Leadership
Participating as a CSEE Virtual Scholar allowed me to practice what I preach, and even better, to take my teachings and empower other educators to launch student leadership initiatives. I can't say for sure what the future will look like, no one can, but I am certain that students learning these critical leadership skills at St. Luke's and soon at institutions across the country will lead with confidence, compassion, and the mindset to make things better.
St. Luke's is a secular private school in New Canaan, CT for grades 5-12. St. Luke's mission is an exceptional education that inspires a deep love of learning, a strong moral compass, the commitment to serve, and the confidence to lead. St. Luke's Center for Leadership advances our mission by helping students develop exceptional leadership ability.
Get our latest blog posts!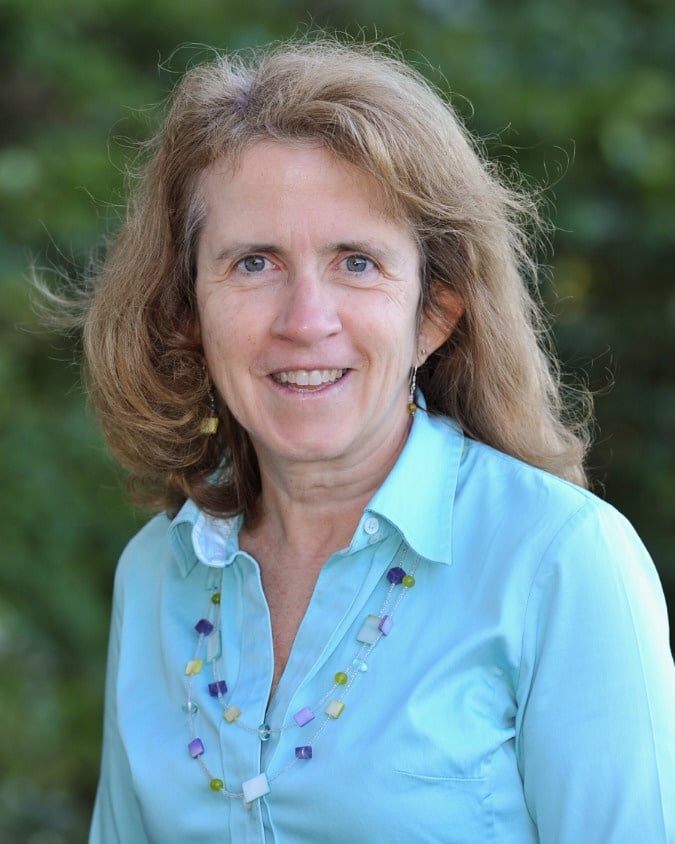 Kate Parker-Burgard is St. Luke's Center for Leadership Director and has been at St. Luke's since 2003. She served as St. Luke's Director of Character Education for many years before assuming her current role in 2018. Kate holds a BA with a concentration in Religion from Hamilton College and a Master of Divinity degree from Union Theological Seminary. She was ordained into the United Methodist Church. She is also a member of the Board of the Foundation 4 Orphans.