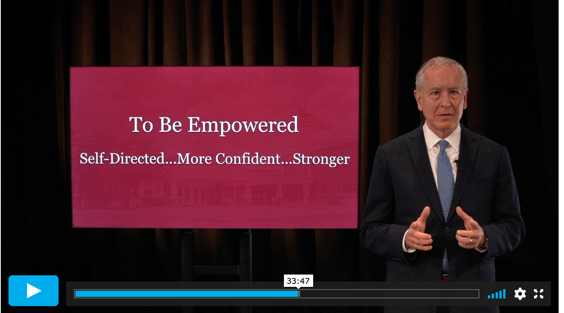 The State of the School 2020 broadcast recording.
"Our students need to be empowered. As they move through school, with the guidance of skilled and caring teachers, they will become increasingly able to direct their own learning and lives."
I'd like to say it was all planned...but it wasn't.
When I wrote the words above for my Strategic Planning Presentation, I had no idea the central role empowered students would play in the State of the School.
Just as we began imagining what a virtual State of the School might look like, Senior Brian Douglas and Theater Director John Conners pitched a concept: Let's do a live broadcast of the State of the School. We said "Yes!" and so began the first live broadcast in our 19-year State of the School history—with students in "starring" roles...
Broadcast Director Brian Douglas '21

"...he is among the best directors I have ever worked with, period."

Senior Brian Douglas was the Broadcast Director for the State of the School. Brian literally called the shots, organizing the crew and visualizing the camera work that would bring the content to life for viewers.

State of the School Executive Producer Nancy Troeger (also St. Luke's Director of Marketing & Communication) commented: "Brian was my partner on this show. I found myself repeatedly forgetting he was a student because he was such a consummate professional. He is not an impressive 'student' director, he is among the best directors I have ever worked with, period."

I had the pleasure of watching Brian present a portion of his Independent Study project: The Empty Theater: Broadcast Technology for Productions in the Age of COVID-19. To echo Nancy, it was not a strong "student" presentation, it was one of the best presentations I've experienced, period.

Broadcast Technical Director Jack Laibe '21

"Jack brought seven years of experience as an SLS Stage Manager to this production. "

Senior Jack Laibe worked with Brian as the Broadcast Technical Director. John Conners, who served as the show's Technical Producer said: "Jack brought seven years of experience as an SLS Stage Manager to this production. He was essential in keeping us all connected and communicating well, and he helped Brian run control room equipment. It takes a cool head to be able to perform under the pressure of a live broadcast. This is where we saw Jack's training as an EMT come in handy as he calmly helped to resolve every challenge."

Blues Band Claire Watson, Tommy Lewis, Sam Pakman, Calvin Stroethenke, Zaire Profit, and Audrey Magnusen

Speaking of calm, cool, and collected professionals, the above members of Blues Band came together to perform in St. Luke's first State of the School music video: Times Like These, expertly Directed and edited by Audio Visual Specialist Bryan DeVissiere. They rehearsed, recorded, performed in the video shoot and contributed to the concept and production process.

Upper School Band Teacher Peter Valera

Upper School Band Teacher Peter Valera was Musical Director of Times Like These. He exemplified the impact of the "skilled and caring teachers" I describe in my presentation. Peter selected the song and then invited students into the process. He empowered them to be their best, to voice their thoughts and ideas, all while guiding them and sharing his musical expertise. The end product speaks for itself.

While I'd like to say it was my master plan to have these creative, incredibly capable students and faculty underscore my "Empowered Student" message—the truth is, it happened organically. I see this as a wonderful sign that our strategic planning is building upon existing strengths. Namely an enduring commitment to inspire students to forge their own paths and go above and beyond what they ever thought possible.

State of the School crew (from left to right): Bryan DeVissiere, Valerie Parker, Eli Fendelman, (Mark ), Brian Douglas, Jack Laibe, Nancy Troeger, John Conners, Sara Aylward, and Christine Costello.
St. Luke's is a secular (non-religious) private school in New Canaan, CT, for grades 5-12. St. Luke's mission is an exceptional education that inspires a deep love of learning, a strong moral compass, the commitment to serve, and the confidence to lead. St. Luke's Center for Leadership advances our mission by helping students develop exceptional leadership ability.
Get our latest blog posts!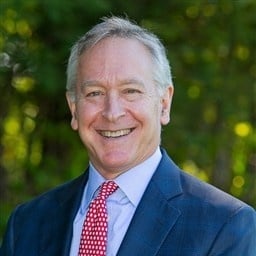 Before retiring in the summer of 2022, Head of School Emeritus Mark Davis was at the helm of St. Luke's exceptional rise over the last 20 years. As a forward thinker, and known for his ability to inspire innovation while preserving tradition, Mark was focused on what students will need to thrive in the future. He often wrote about ethical leadership, deeper learning, and mindfulness in education.