Three hundred and eighty-five St. Luke's parents came together to celebrate the 18th Annual State of the School. By #18 you might think the State of the School would lose some of its excitement. Nothing could be further from the truth.
Board Chair James Andersen delivered a compelling presentation about St. Luke's evolution and goals. Liz Perry, Hunter Martin and Michael Mitchell dazzled as they brought the Confidence to Teach to life. Liana Seale '21 and Emily Stute '20 sang like angels. And I had two of the best jobs of the night: Presenting Nancy Walsh with the Edward B. Blakely Distinguished Faculty Award and sharing leadership initiatives that distinguish St. Luke's.
If you missed this outstanding evening, please do watch the video below. We can't replicate the Parents' Associations' beautiful cocktail reception, but you will absolutely get a very good picture of the State of Your School.
---
St. Luke's is a private, secular (non-religious) independent school in New Canaan, CT serving grades 5-12. St. Luke's mission: An exceptional education that inspires a deep love of learning, a strong moral compass, the commitment to serve, and the confidence to lead.
Get our latest blog posts!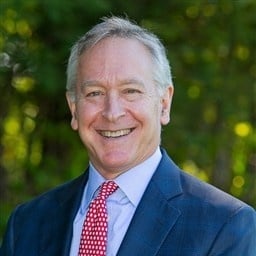 Mark Davis has been the transformative Head of St. Luke's since 2002. Known for his ability to inspire innovation while preserving tradition, Mark has been at the helm of St. Luke's exceptional rise. As a forward thinker, Mark focuses on what students will need to thrive in the future. He writes often about ethical leadership, deeper learning, and mindfulness in education. Mark is a member of the National Association of Independent School (NAIS) Board of Trustees.