With realization of one's own potential and self-confidence in one's ability, one can build a better world."

- DALAI LAMA
Though the Dalai Lama has not been to St. Luke's (yet), his words capture the spirit of our community and mission. We aspire to see our children thrive, to become confident learners and good people making positive contributions to the world.
On the first day of school, students arrived to inspire us with their ideas, curiosity, and endless potential. We could barely contain our excitement, for they are why we prepared so intently.
This year, the opening of St. Luke's Arts & Jensen Family Humanities Wings gave special meaning and anticipation to our collective excitement. After many years of planning and nearly eighteen months of construction, on September 4th teachers and students gathered in the new Alumni Plaza for a ribbon-cutting ceremony and our students' first look at the transformation of their School.
Celebrating St. Luke's New Arts & Jensen Family Humanities Wing
See Opening Day Photo Gallery.
The 39,000 square foot addition and renovation comprise the largest construction project in St. Luke's history. In addition to new Arts & Humanities classrooms, the new spaces include a world-class designLab, an art gallery, a two-story library and cafe and a welcoming new Admissions Suite.

Board Chair James Andersen recently commented, "This is the capstone of a nearly two-decade-long effort that has transformed St. Luke's and propelled it into the upper echelon of independent schools in this country."
---
St. Luke's is a private, secular (non-religious) independent school in New Canaan, CT serving grades 5-12. St. Luke's mission: An exceptional education that inspires a deep love of learning, a strong moral compass, the commitment to serve, and the confidence to lead.
Get our latest blog posts!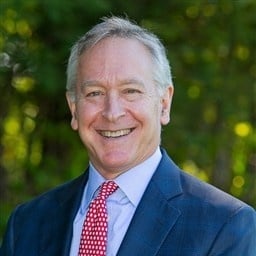 Mark Davis has been the transformative Head of St. Luke's since 2002. Known for his ability to inspire innovation while preserving tradition, Mark has been at the helm of St. Luke's exceptional rise. As a forward thinker, Mark focuses on what students will need to thrive in the future. He writes often about ethical leadership, deeper learning, and mindfulness in education. Mark is a member of the National Association of Independent School (NAIS) Board of Trustees.