You must never confuse faith that you will prevail in the end—which you can never afford to lose—with the discipline to confront the most brutal facts of your current reality, whatever they might be." - Admiral James Stockdale

Admiral James Stockdale, a three-star admiral and Medal of Honor recipient, survived eight years as a prisoner of war in Vietnam. Researcher and author James Collins turned Stockdale's harrowing story into a leadership lesson—the Stockdale Paradox—and featured it in his seminal business book, Good to Great.

Admiral James Stockdale

The essence of Stockdale's counsel, maintaining unwavering faith
while confronting the brutal facts, serves as a beacon through these tumultuous times. It's a philosophy that resonates and reminds me of these words from another indomitable leader and brave fighter:

"We must accept finite disappointment, but never lose infinite hope." - Martin Luther King, Jr.

Leading through a pandemic is daunting. Leading through a pandemic in a time of extreme racial and political unrest requires endless balancing of brutal facts and infinite hope.

For every school leader, and every individual struggling to keep positive momentum, I'd like to build on Stockdale's and King's wisdom with the leadership mindsets below.

Train for a Marathon, Not a Sprint

I started sounding this theme right after Connecticut schools closed their campuses in March, not because I didn't want to re-open the campus but because I had Stockdale in my head, warning of the perils of over-optimism. Asked about the personal characteristics of prisoners who did not make it out of the camps, Stockdale replied: "The optimists...they were the ones who said, 'We're going to be out by Christmas.' And Christmas would come, and Christmas would go. Then they'd say, 'We're going to be out by Easter.' And Easter would come, and Easter would go. And then Thanksgiving, and then it would be Christmas again. And they died of a broken heart."

All of us need hope. We need it in our bones, especially in challenging times, to fuel ourselves and to authentically inspire others to work toward a better future. But over-promising, especially promising a quick end to a crisis, inevitably erodes belief and trust, the two sine qua nons for a community during a crisis.

As Head of School, I felt great temptation and pressure last spring to promise and pinpoint a return to normal. Giving in and painting a rosy picture would have served no one while risking broken hearts and broken trust. That remains true today, even as we can look ahead—more hopefully than we could last March— to loosening the grip of the pandemic. Inspired as ever by Winston Churchill, I recall his words to Franklin Roosevelt in 1945, when FDR pressed for a short Big Three conference to plan for a post-World War 2 world: "I do not see any...way of realizing our hopes about World Organization in five or six days. Even the Almighty took seven."

Of course that doesn't mean we sit around and wait for progress. No, we put our shoulders to the wheel and do the work required to make progress, whether to survive a pandemic or to build a more just future. As Dr. King said: "If you can't fly then run, if you can't run then walk, if you can't walk then crawl, but whatever you do you have to keep moving forward."

Which leads to the second mindset...

Don't Even Try To Go It Alone

I have the great fortune of working with an extraordinary faculty, administration, and Board of Trustees, without whom none of the School's success would have been possible, both pre-pandemic and since. Last spring we also established nine task forces to ensure that we were bringing to bear every ounce of expertise as well as the full range of experience and perspectives needed to plan effectively and make decisions to deliver an education both exceptional (per our mission) and safe for students and staff.

The old adage to "trust your instincts" seemed wildly out of place in a time of great uncertainty, as proven in April 2020 when I told a group of New Canaan leaders and residents that "parents will never send their kids to school in masks." Similarly, neither conventional wisdom nor following a herd mentality could have served the moment. Rather, I recall feeling grateful for our Community Goals For Learning, especially "Seeking truth and understanding," which became a planning and decision-making lodestar and which could only be done by rigorously following science and data, listening to and relying on many people, and vast coordination. James Collins's imperative to "get the right people on the bus" never rang truer to me, and I was lucky that so many raised their hands to help.

We need each other, and are made better by each other.

Remain Calm & Kind

A year ago few of us could have imagined the amount of deaths (400,000 and rising rapidly), economic hardship, social isolation, and fracturing of civil society that we see today. The fear, uncertainty, and fatigue caused by our national strife have taken a toll on students, teachers, and families, while leading to a well-documented mental health crisis that could reverberate long after the pandemic ends. In an effort to build connections and strengthen community, I began hosting "Calm and Kind" Drop-Ins in early April 2020, offering St. Luke's families a virtual space for conversation and mindful attention to our well-being and staying power, and plan to continue those offerings post-pandemic. We've also offered a series of webinars since March, some of which have included a focus on practices for building mental muscles and emotional agility.

None of this is to say that I myself have not experienced fear, uncertainty, and fatigue. Indeed I have...and I continue to. Going inward with those feelings helps, as does sitting with them, trying to understand them so they don't take over. In so doing, sometimes I find a little more calm, which we might call equanimity...a little more capacity not to be overwhelmed by the hurly burly of those feelings. In "If," Rudyard Kipling wrote of the possibilities of equanimity with the following lines:

"If you can meet with Triumph and Disaster,

And treat these two impostors just the same…"

- Rudyard Kipling

Understandably, times such as these can shake us to the core. Finding the tools to remain calm not only helps us feel better, but also can help us find reserves of kindness and compassion for others, which we need to lead effectively.

"I never doubted not only that I would get out, but also that I would prevail in the end and turn the experience into the defining event of my life, which, in retrospect, I would not trade."- Admiral James Stockdale

It's astounding that, in looking back on his life, Admiral Stockdale regarded imprisonment as the defining moment of his life, one he would not trade. Recently, St. Luke's Board Chair, James Andersen said "the months since the arrival of Coronavirus—a time none of us would wish for—have nonetheless proven to have been St. Luke's finest hour."

Acknowledging our strength and the fact that good can come even from terrible circumstances allows us to move forward, to plan for better days. In the midst of the pandemic, I wrote to families to say I would not "sugarcoat the reality in which we find ourselves nor limit the potential brightness of our future."

"The world of the future is in our making. Tomorrow is now." - Eleanor Roosevelt
St. Luke's has never stopped planning for the future of our students. Our greatest hope and responsibility is to

empower students

, the next generation of leaders—who will be ready to face facts and life's inevitable challenges with infinite hope, compassion and confidence.
More On Leadership:

St. Luke's Center for Leadership

Leadership Lab: The Power of Public Service

Student Leadership: What's Holding You Back?






St. Luke's is a secular (non-religious) private school in New Canaan, CT, for grades 5-12. St. Luke's mission is an exceptional education that inspires a deep love of learning, a strong moral compass, the commitment to serve, and the confidence to lead. St. Luke's Center for Leadership advances our mission by helping students develop exceptional leadership ability.
Get our latest blog posts!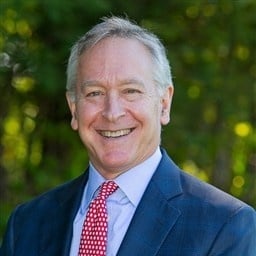 Before retiring in the summer of 2022, Head of School Emeritus Mark Davis was at the helm of St. Luke's exceptional rise over the last 20 years. As a forward thinker, and known for his ability to inspire innovation while preserving tradition, Mark was focused on what students will need to thrive in the future. He often wrote about ethical leadership, deeper learning, and mindfulness in education.