"My hope for all of you, starting today at the beginning of the school year, is that you, too, will make opportunities to let those around you know how much you care...write someone a personal note, remember a friend's birthday, send a text (maybe even call?!) to tell someone you're thinking of them and rooting for them because you know they're nervous about a performance, a class presentation, a debate, or a big game. Imagine if each of us thought and acted that way. For you mathematicians and investors out there, think about the power of compounding interest."

- Mark Davis, St. Luke's Honor Code Talk, 2021

Each year, in the opening days of school, I gather with students to highlight a central force shaping St. Luke's culture, the Honor Code:

St. Luke's Honor Code

As members of the St. Luke's community, we will maintain and encourage integrity at all times. We will be honest in what we say and write, and we will show respect for ourselves, each other, and all property. We will treat everyone with kindness, and we will accept responsibility for our actions.

Following my talk, students read, discuss, and sign a copy of the Honor Code in their advisory groups. This act acknowledges each student's understanding and acceptance of the personal responsibility inherent in the code.

Below is my recent talk which focused on a particular element of the code: Treat everyone with kindness. As I said to students, expanding our culture of kindness lifts each and every one of us and builds our human connection.
Read More:

Student Leadership: The Rewards of Caring




St. Luke's is a secular (non-religious) private school in New Canaan, CT, for grades 5-12. St. Luke's mission is an exceptional education that inspires a deep love of learning, a strong moral compass, the commitment to serve, and the confidence to lead. St. Luke's Center for Leadership advances our mission by helping students develop exceptional leadership ability.
Get our latest blog posts!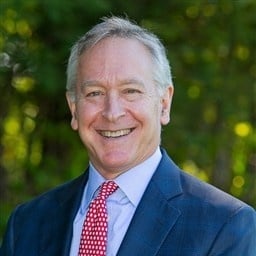 Before retiring in the summer of 2022, Head of School Emeritus Mark Davis was at the helm of St. Luke's exceptional rise over the last 20 years. As a forward thinker, and known for his ability to inspire innovation while preserving tradition, Mark was focused on what students will need to thrive in the future. He often wrote about ethical leadership, deeper learning, and mindfulness in education.