"In a few minutes, the bagpipes will sound, the faculty and I will file out, followed by you, and high school will be over. As excited as they are about your accomplishments and your futures, your parents are dreading the sound of those bagpipes...because it tells them that things will never be the same again. Our hopes and dreams for you seem filled with possibility, and yet we might rather cling to you, have you sit here for a few more minutes, live with us just a little longer, rather than release you to the world...and us to ourselves."
St. Luke's 90th Commencement Exercises were as beautiful and as moving as any of the 17 I've led since becoming Head of School. Though each Commencement is as unique as its class members, all share the beautiful sorrow that comes with saying goodbye.
Below are two videos that capture this magnificent day—the first is a short highlights piece and the second, the full morning. Also below, see the Commencement re-creation for Senior Hunter Conetta—only at St. Luke's.


Highlight Video:
Commencement Day (long version):
View the Commencement 2019 photo gallery.

Below: Senior Hunter Conetta was unable to attend Commencement. College Counseling Director Sonia Bell and his classmates would not accept that he miss this experience—so they recreated Commencement the next week. Above & Beyond. Read the story.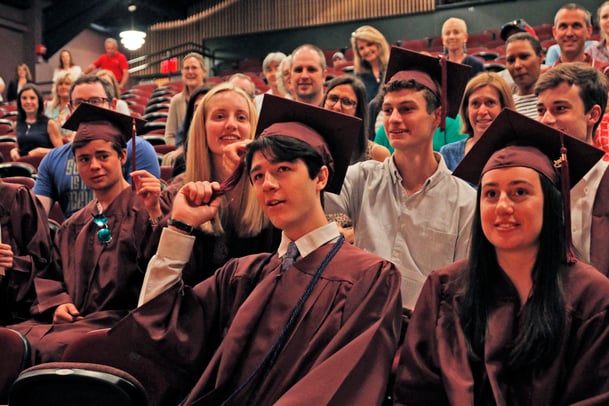 See the colleges & universities St. Luke's graduates attend.
Read the feature story in the New Canaan Advertiser.
---
St. Luke's is a private, secular (non-religious) independent school in New Canaan, CT serving grades 5-12. St. Luke's mission: An exceptional education that inspires a deep love of learning, a strong moral compass, the commitment to serve, and the confidence to lead.
Get our latest blog posts!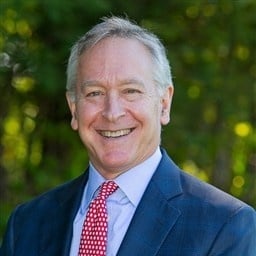 Mark Davis has been the transformative Head of St. Luke's since 2002. Known for his ability to inspire innovation while preserving tradition, Mark has been at the helm of St. Luke's exceptional rise. As a forward thinker, Mark focuses on what students will need to thrive in the future. He writes often about ethical leadership, deeper learning, and mindfulness in education. Mark is a member of the National Association of Independent School (NAIS) Board of Trustees.