Early this month,
18 fraternity brothers were charged in the death
of a young man. He died during a drunken "pledge night." From every angle, this story is pure heartbreak. For the senseless loss of a life just beginning. For his devastated family. For the 18 "brothers" who did not set out to cause harm—but whose actions and inactions will forever haunt them.
In the wake of this sadly familiar tale, I received the email below. It was written by St. Luke's alumnus Drew Lord '14 to the Interfraternity Council (IFC) at Cornell. In addition to serving as president of the IFC, Drew is president of Cornell's Cayuga Watchers group which aims "to become an established national model for combating high-risk drinking." USA Today wrote about Drew and the group in 2016.
As our class of 2017 prepares to leave the Hilltop and make their way in the world, I'm eager to share Drew's wise words. I am deeply grateful for his leadership. He is living every element of the St. Luke's mission and has indeed gone forth to serve:
From: IFC President <president@cornellifc.org>
Subject: Lessons from Penn State
Date: May 7, 2017 at 3:30:37 PM EDT
To: IFCALL-L@list.cornell.edu
Hi everyone,
At this point, I'm sure you have all heard the news of the horrifying death of Timothy Piazza, a member of Beta Theta Pi at Penn State, who died after falling down the stairs at his chapter house following a fraternity "initiation ritual." While the details of this incident are beyond disturbing, they are important for us to reflect upon.
First, we must all recognize that under no circumstance is it acceptable for any of us -- or for our peers -- to reach a dangerous point of intoxication. Indeed, it seems like there might have been forced drinking involved in Piazza's situation. It goes without saying that forcing anyone to drink copious amounts of alcohol is unacceptable. However, in more general terms not related to Piazza's situation, be safe with your alcohol consumption -- pace your drinks, do not drink with the goal of blacking out, and be aware of your limits. It's also important for us to realize that we all have a place when it comes to mitigating the harms of high-risk drinking. Sometimes your brothers, or your peers, need an active bystander to help keep them in check. There is absolutely nothing wrong with being that person.
Second, and most important, if someone is to ever be in a situation like Piazza's -- call for help. Many times we hear our friends advocate for letting a drunk or injured person "sleep it off." This is problematic -- oftentimes, we don't know whether the BAC of this person has reached its peak and is declining, or if it has rather not yet peaked and still rising in their sleep. Keep in mind Cornell and New York State's Good Samaritan Protocol, and remember that immediately taking action to do the right thing will always have a favorable outcome for all parties involved.
Third, do not -- in any capacity -- try to "cover up" any type of incident. The results of the grand jury investigation demonstrate the consequences of acting in the way of the brothers at Beta Theta Pi the night of Piazza's death. Following a review of GroupMe messages, texts and surveillance video from the night of his death, the fraternity and its brothers faced over a total of 850 charges. Eight of the brothers were charged for involuntary manslaughter, aggravated assault, reckless endangerment and hazing. Four brothers were charged for reckless endangerment and hazing. Six were charged for evidence tampering, while the chapter itself is facing charges including involuntary manslaughter and hazing. In a situation like this, there is no other option than to seek help from a medical professional as early as possible.
Cornell is not immune to the harms of high-risk drinking or hazing. The situation at Penn State serves as a somber -- but incredibly important -- reminder of the incident that occurred at Cornell's SAE chapter in February 2011. Ever since, we have taken great strides to make our fraternity community more safe, responsible, and aware. With a few high-risk days coming up, let's hold the lessons we've learned close.
Please let me know if you have any questions or concerns. Thanks for reading through, and I hope you have an awesome week.
Best,
Drew Lord
President, Interfraternity Council
Cornell University
Drew Lord @ Cornell
---
St. Luke's is a private, secular (non-religious) independent school in New Canaan, CT serving grades 5-12. St. Luke's mission: An exceptional education that inspires a deep love of learning, a strong moral compass, the commitment to serve, and the confidence to lead. Come visit us!
Get our latest blog posts!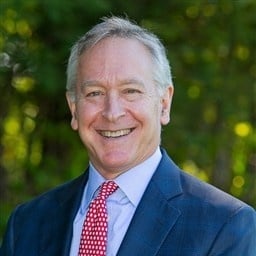 Mark Davis has been the transformative Head of St. Luke's since 2002. Known for his ability to inspire innovation while preserving tradition, Mark has been at the helm of St. Luke's exceptional rise. As a forward thinker, Mark focuses on what students will need to thrive in the future. He writes often about ethical leadership, deeper learning, and mindfulness in education. Mark is a member of the National Association of Independent School (NAIS) Board of Trustees.