These days it seems we are besieged with tragic news, whether the result of ugly human intent or powerful and destructive natural forces.
When killing and human suffering have become frighteningly routine it can be tempting to retreat to numbness, to descend into anger or despair, to assign blame in a desperate attempt to identify the cause, to lose hope. Last night I was lucky enough to sit in a group meditation led by a wise person who suggested we practice gratitude. At a time when most of us were feeling anything but gratitude, he suggested practicing it as an antidote to those other normal human reactions. He illustrated his point with an image of balancing a scale, adding to the gratitude plate as a counterweight to the over-heavy "fight or flight" plate.
I found the meditation helpful and - without diminishing recent and ongoing tragic events - reassuring because it reminded me of how connected all of us are. And so it reminded me of the enduring power of hope, connection and human kindness. What I found tonight by meditating on gratitude others will find in religious faith and prayer, or in other ways either deeply personal or rooted in a traditional or more contemporary custom.
However you seek comfort or wisdom in times such as these, know that at St. Luke's we will continue to come together. We will continue to build community, day in and day out, as we "walk together" with values shared and mission clear. And we will continue to be here for our students, whose hope and optimism we must sustain because they will shape a bright future.
Get our latest blog posts!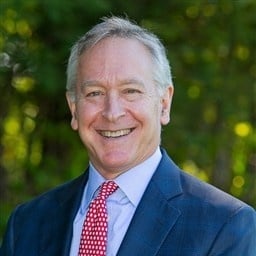 Mark Davis has been the transformative Head of St. Luke's since 2002. Known for his ability to inspire innovation while preserving tradition, Mark has been at the helm of St. Luke's exceptional rise. As a forward thinker, Mark focuses on what students will need to thrive in the future. He writes often about ethical leadership, deeper learning, and mindfulness in education. Mark is a member of the National Association of Independent School (NAIS) Board of Trustees.