The Connecticut Association of Independent Schools (CAIS) crafted An Open Letter to Elected Officials in Connecticut addressing gun safety. Heads of School across the state, myself included, signed the letter in support of its message.
CAIS published the letter in seven high-circulation Connecticut newspapers: The Hartford Courant, The Danbury News Times, The New Haven Register, the Connecticut Post, The New London Day, The Stamford Advocate and The Greenwich Time. Participating schools will share in their local news and on social media.
We are part of an effort to stand beside students across the country who are crying out for change. New York Heads of School placed a full-page ad in The New York Times, Heads of Schools Speak Out Against Gun Violence. An Open Letter to the President and Our Nation's Legislative Leaders.
The National Association of Independent Schools (NAIS), also issued a statement. I'm on the NAIS Board and, as I write, attending the NAIS Annual Conference.
NAIS Statement on Student Safety
Students have a right to learn without fear. Learning in a safe and healthy environment is a foundational requirement for a successful education. Yet in communities across the country, the fundamental promise to protect students has been fractured by gun violence. This must change.
As a national education association, NAIS empowers independent schools and the students they serve. The schools that belong to NAIS teach students to become informed and engaged citizens who contribute to their communities and to the larger society. As the nation considers how best to protect children, NAIS urges elected officials to take meaningful legislative and regulatory action now to support the safety and well-being of children. We also urge officials to listen to our students as they advocate for systemic change.
This is a problem that we can solve. The issues involved are complex, and many people have deeply held views on how to best address the challenge. But we must get started and refuse to let the complexities paralyze us. Only by working together can our nation's leaders, our schools, and our students bring about the change that's so vital to a secure future.
Of all the powerful, thoughtful points contained in these statements and letters, there is one line in the letter I put my name to that says it all: Our children deserve better.
Read Student Leadership: Harvard's Caring Schools Launches at St. Luke's by Dr. Stephanie Bramlett, St. Luke's Center for Leadership Director. In it she details St. Luke's commitment to creating a better world.
Take a small group tour of St. Luke's led by our students - Visit Us.
---
Want to Study Better? Download Our Guide

---
St. Luke's is a secular (non-religious) private school in New Canaan, CT serving grades 5-12. St. Luke's mission: An exceptional education that inspires a deep love of learning, a strong moral compass, the commitment to serve, and the confidence to lead.
---
Get our latest blog posts!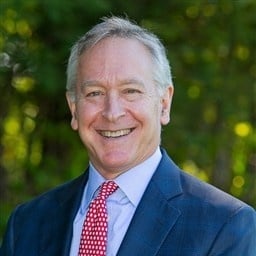 Mark Davis has been the transformative Head of St. Luke's since 2002. Known for his ability to inspire innovation while preserving tradition, Mark has been at the helm of St. Luke's exceptional rise. As a forward thinker, Mark focuses on what students will need to thrive in the future. He writes often about ethical leadership, deeper learning, and mindfulness in education. Mark is a member of the National Association of Independent School (NAIS) Board of Trustees.